FREE TWO WEEK TRAINING IN WELDING NMU - Jacobetti Complex Check out this great opportunity!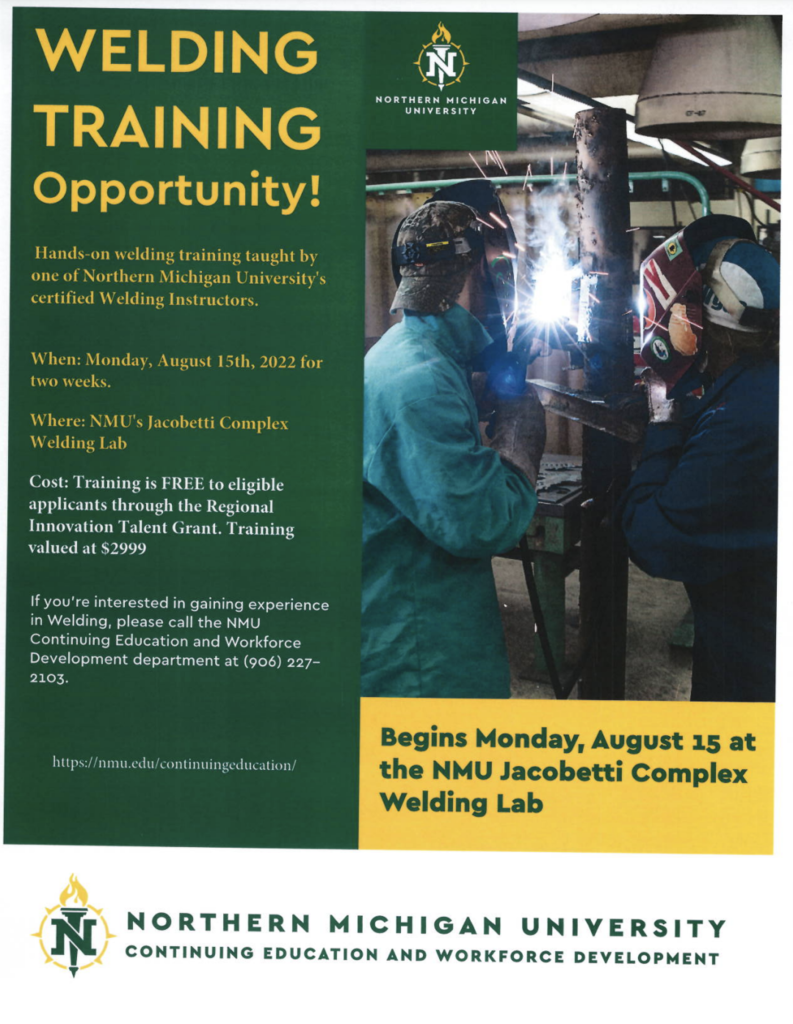 Hello from 411 Elm!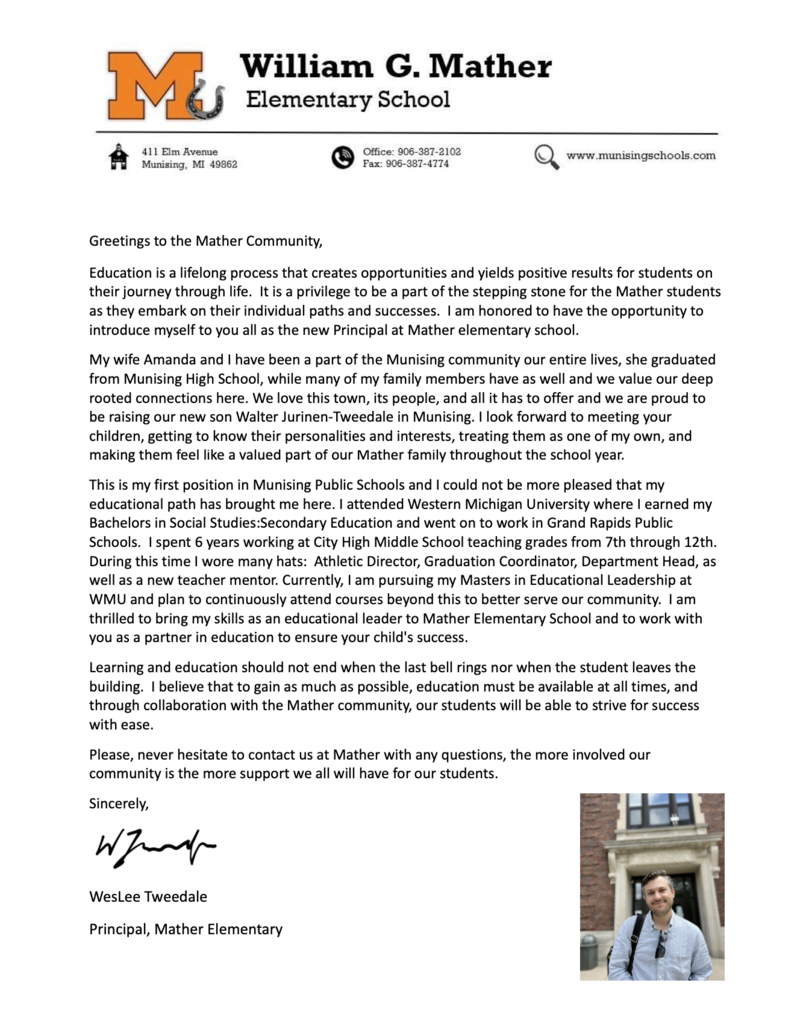 Dear Munising Middle/High School Families, It is with great excitement that I write this letter of introduction to you as the new Principal and Athletic Director of Munising Middle/High School. I am honored to have the opportunity to work in these new positions at a school where I have personally spent my life learning as both a student and an educator. It has been my dream for many years to be a leader in this building because of my deeply ingrained passion for its students, staff, and supportive community. As a lifelong resident of Munising and former student, then secretary, coordinator, coach, and teacher at Munising Middle/High School, my understanding of our students' and staffs' values and needs are clear. It is my goal to help our school reach its full potential. I look forward to working with many of our students again and meeting and getting to know those I have not worked with in the past. I want to make each and every student and staff member feel like a valued part of Stang Nation throughout the school year and create a culture of understanding and respect. As this is my second positional change in the district in the past two years, I promise to continue to work as hard as possible to grow as an educational leader for Munising Middle/High School. I believe my past experiences in the district and in education will allow me to be a valued asset to your student's educational process. As a parent of two school-aged children myself, I know that being a part of their education is important. I continue to believe in a team approach when it comes to reaching educational goals. I plan to work with you as a valued partner to ensure your child's success. I hope that through collaboration and teamwork between staff, students, and parents, we can make your student's experience here the very best it can be. In closing, please know that my door is always open to you. I truly welcome your conversation and positive input. If we keep our students the primary focus of our work, I know together we will be able to celebrate many successes here at Munising Middle/High School! I look forward to working with you soon! Sincerely, Nicole Lasak Principal and Athletic Director Munising Middle/High School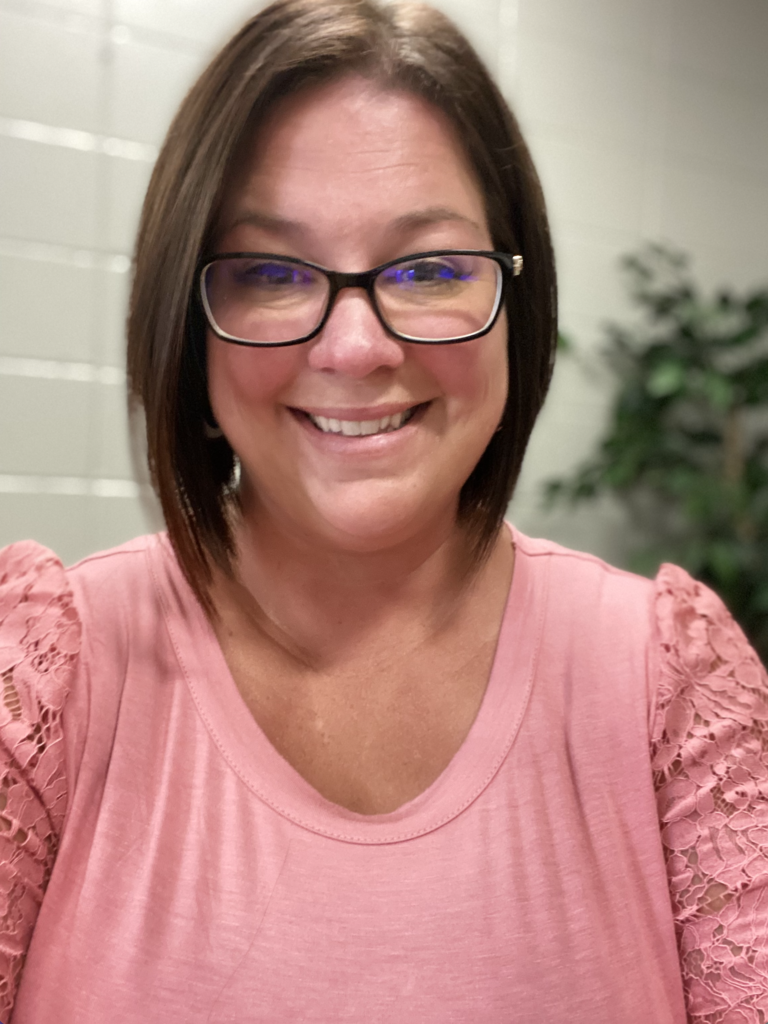 THANK YOU MUNISING! LET ME INTRODUCE MYSELF...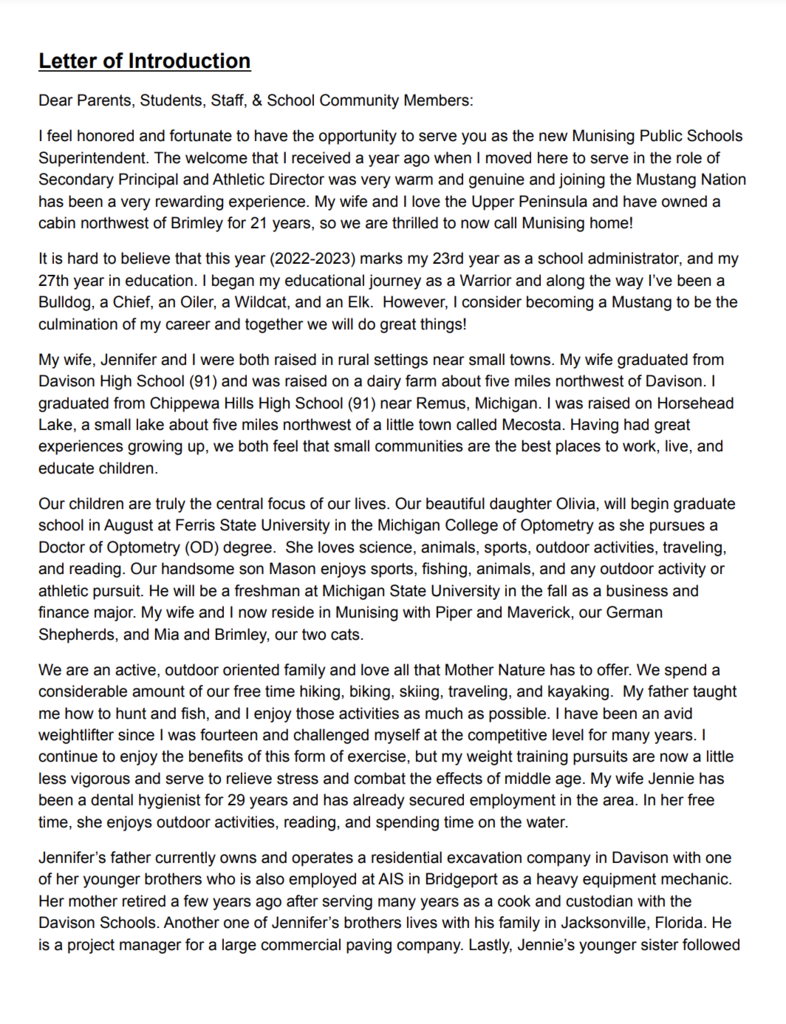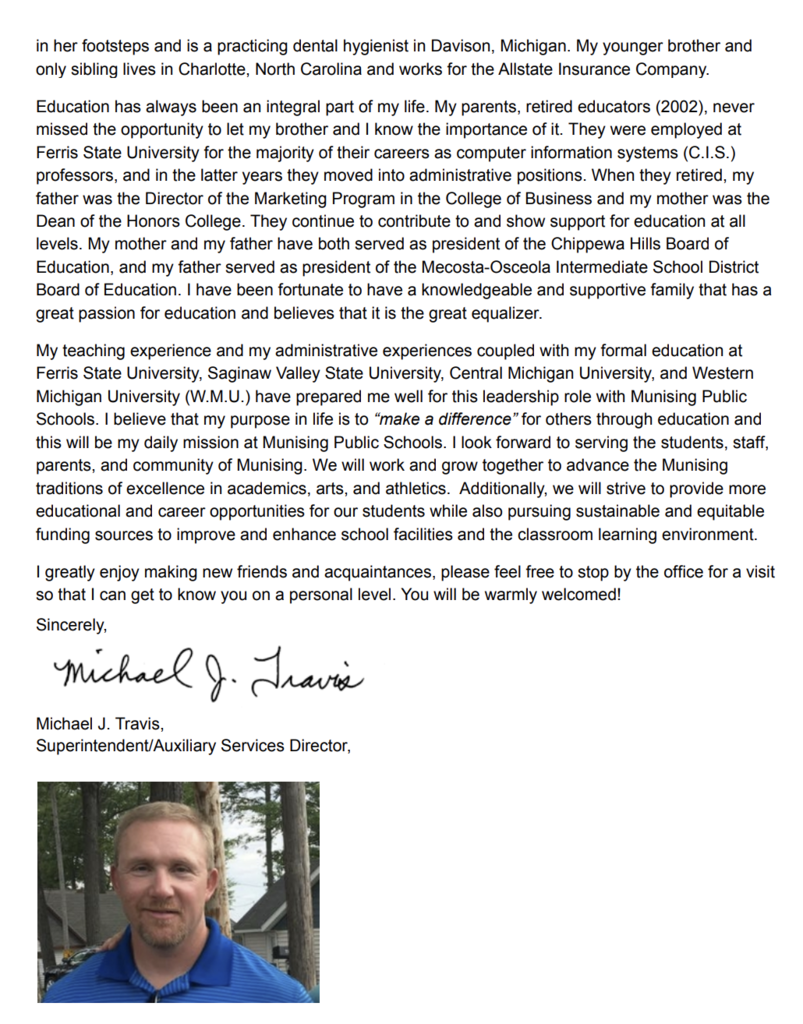 PUBLIC NOTICE Munising Public Schools will be closing both school buildings to all persons including employees on Thursday, July 28th for mandatory water quality sampling. The Michigan Department of Environment, Great Lakes, & Energy (EGLE) in coordination with the Michigan Department of Health and Human Services (MDHHS) requires this sampling to be conducted for all public schools and child care facilities in an effort to improve water quality for all children. The Office and Summer School Staffs at Mather Elementary and the Munising Middle-High School will be working remotely on July 28th, so feel free to email them as needed. Please contact Michael J. Travis at
mike.travis@mps-up.com
for questions regarding these water quality efforts. You can learn more about the School Drinking Water Program at the following link:
https://www.michigan.gov/egle/about/organization/drinking-water-and-environmental-health/school-drinking-water-program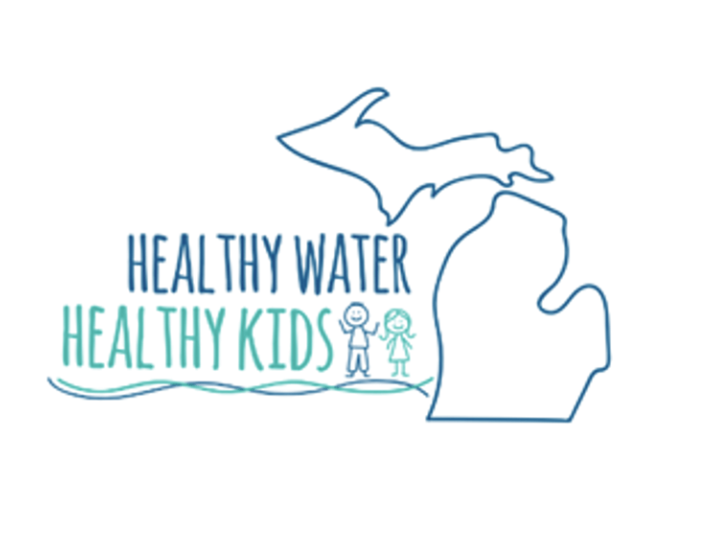 Munising Public Schools School Meals Update for 2022-2023 Dear Parents & Students, This message serves to inform you that the USDA National School Lunch Program (NSLP) has discontinued COVID19 era free school meals for all students for this coming school year (22-23). Students and families that qualify for Free or Reduced Lunch will still be able to take advantage of this governmental program by completing the Free and Reduced Lunch Application and submitting it to Amy Heribacka
amy.heribacka@mps-up.com
at the Middle-High School or Sherry Miller
sherry.miller@mps-up.com
at Mather Elementary. Below please find information from the Michigan Department of education regarding revised national income guidelines for program eligibility. Please refer to the chart below when completing the application to determine your family's level of qualification. Revised school breakfast and lunch prices will be released shortly for 22-23. Please contact me at
mike.travis@mps-up.com
if you have any questions. Sincerely, Michael J. Travis, Superintendent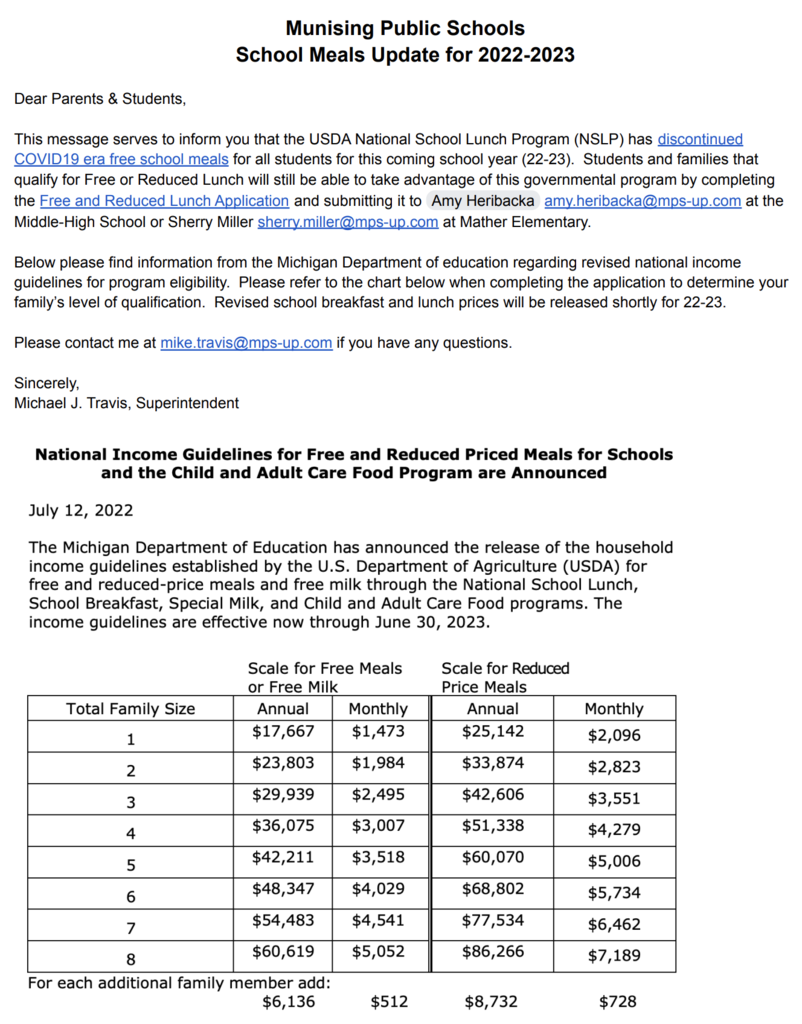 Attention Munising HS Summer School Students: Remember to accept the Google classroom invitation for summer school that was sent to your school email. July 12, 2022 is a mandatory Google Meet for all 9-12 summer school students. It starts at 9:00 a.m. If you have not yet started your online classes, you should ASAP. Contact Mrs. Miles for more info at
Jen.Miles@mps-up.com

FREE SUMMER LUNCH AT MATHER ELEMENTARY BEGINNING MONDAY, JUNE 13! Free lunches will be provided Monday through Friday in the Mather Elementary cafeteria beginning Monday, June 13 and ending Friday, August 26. Lunch will be served daily from 11:30am to 12:30pm. Free meals will be made available to children 18 years of age and under or persons up to age 26 who are enrolled in an educational program for the mentally or physically disabled. No advance registration is needed. Just stop in for a free lunch, and have a great summer!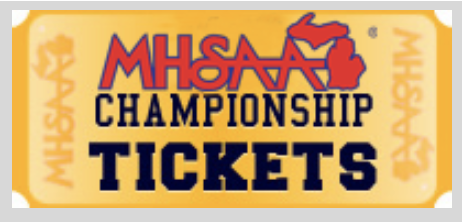 Bus runs will be combined in the afternoon today, Tuesday, May 31. Students who normally ride bus #2 will ride bus #10 home.

CONGRATULATIONS TO OUR MUSTANG ARTISTS THANK YOU FOR MAKING THE WORLD A MORE BEAUTIFUL PLACE! Below is a list of the Munising DDA 2022 Banner Contest Winners! Art students from 6-12th grade entered the contest: What Makes Munising Unique? The following students will have their artworks professionally printed and hung along Munising Avenue on M28 this summer! Thank you to Kristen Sontag for promoting and supporting this opportunity.

MUNISING HIGH SCHOOL COMMENCEMENT CEREMONIES SATURDAY, MAY 28TH, 2022 - MUSTANG STADIUM @ NOON IMPORTANT REMINDERS: 1) All PARENTS and GUESTS must bring their own chairs! Parents and Guests will seat themselves on the football field facing the stadium. The Graduates will be seated in the bleachers facing the football field. 2) Graduation will be live streamed on the NFHS Network and may be viewed online at the following link:
https://www.nfhsnetwork.com/events/munising-high-school-munising-mi/evt6835a65a23
by existing users. New users may need to create an account.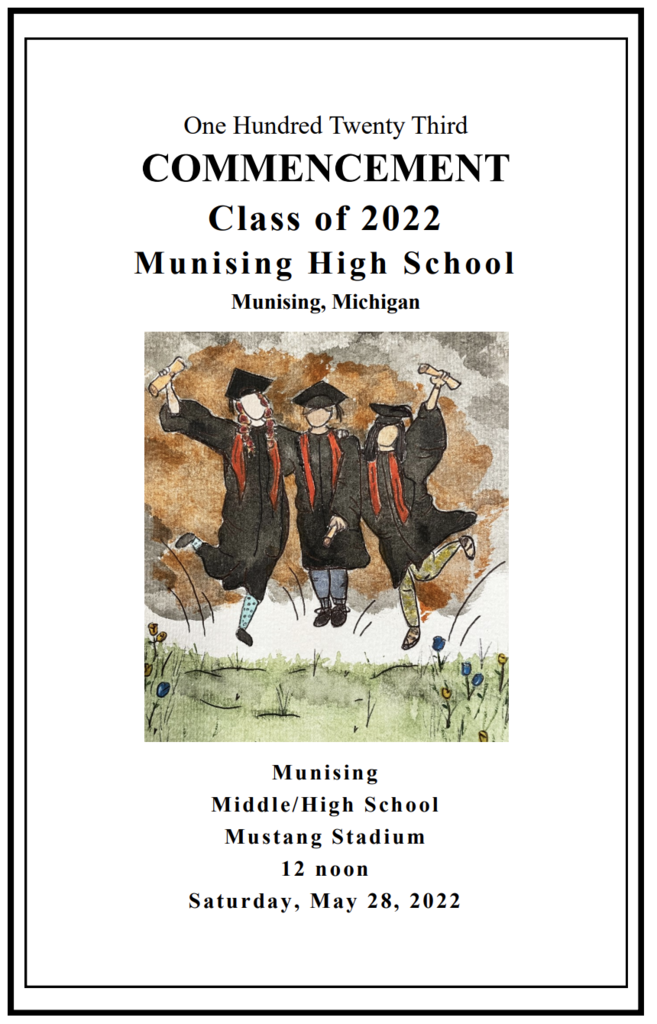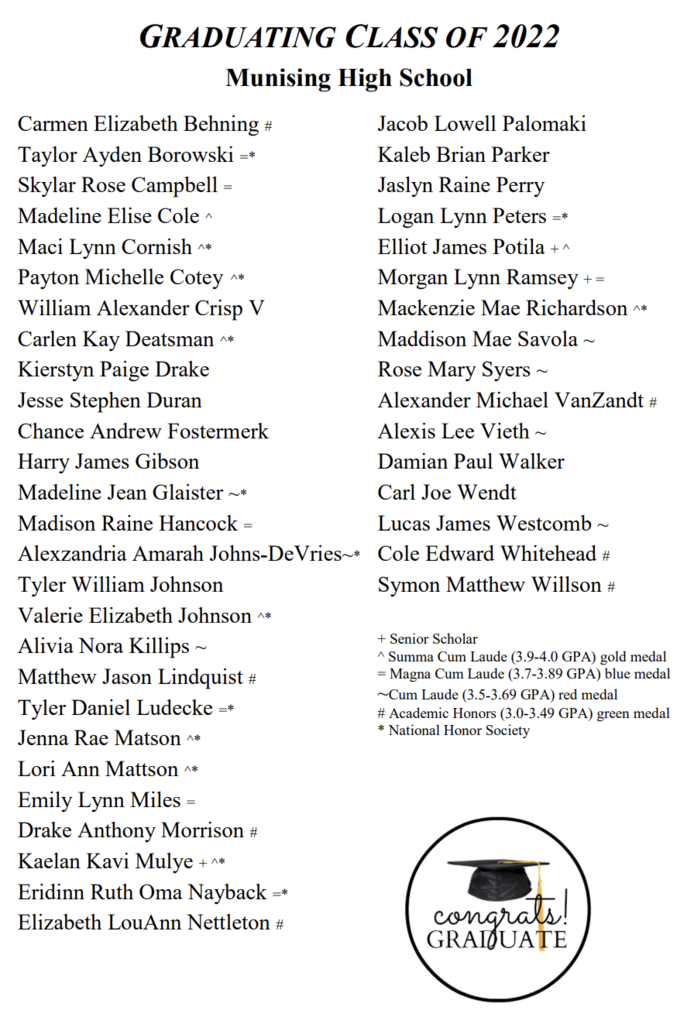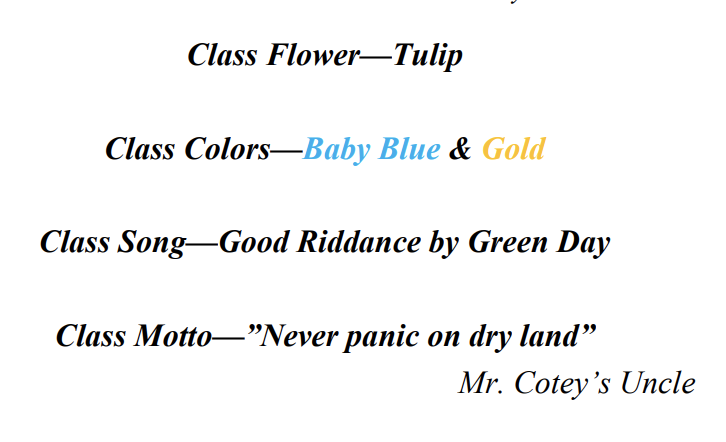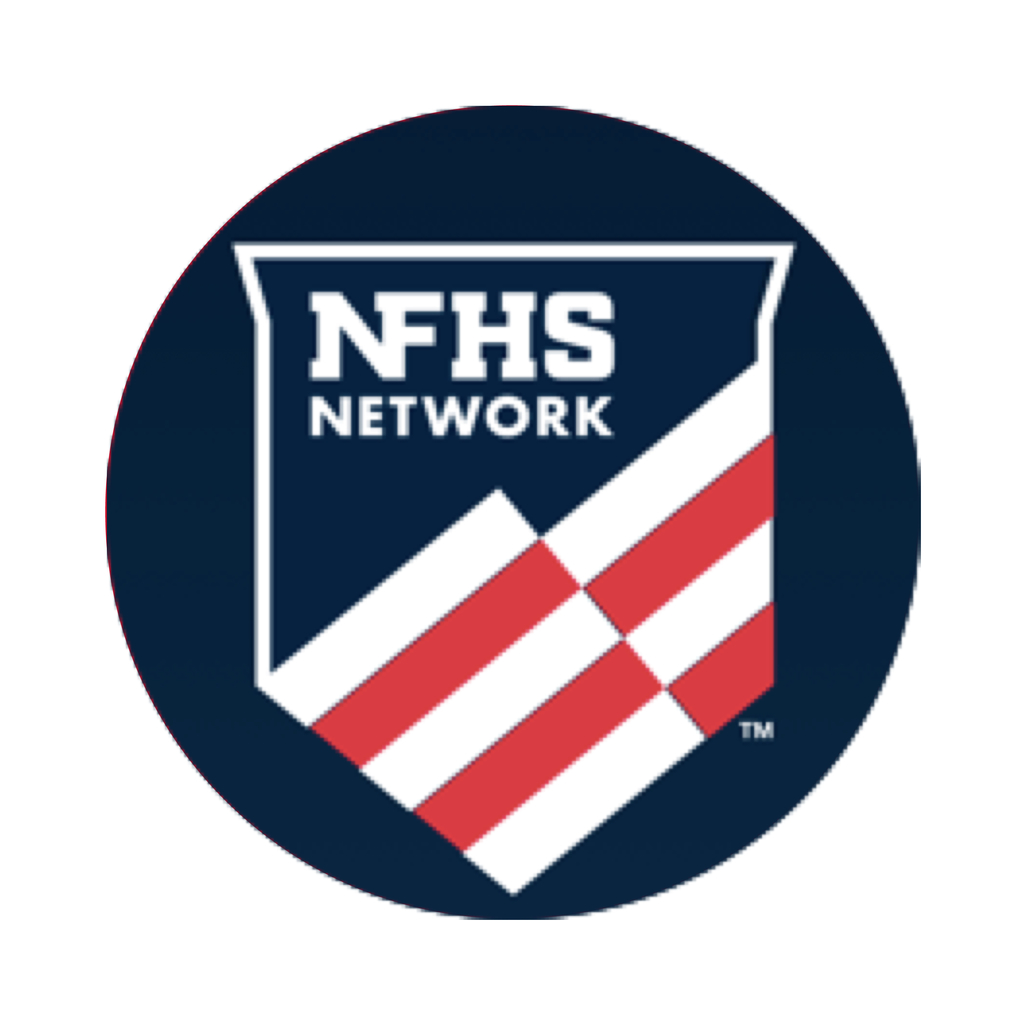 MUSTANG HS TRACK & FIELD MEET IS CANCELED TODAY (5/26) Due to cold temperatures, rain, and standing water on the track. The Mustangs will be back in action at 10:00am on June 4th in the MHSAA UP Track & Field Finals hosted at Kingsford High School.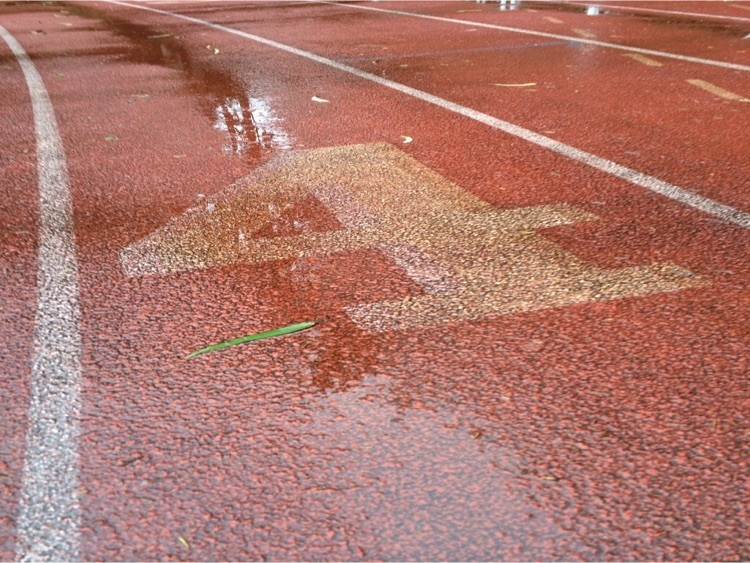 MUSTANG MIDDLE SCHOOL TRACK MEET - RESCHEDULED Due to predicted heavy rain and high winds this afternoon and evening, the MS Skyline Central Conference Track Meet scheduled for 4:00pm today (5/25) at Manistique has been rescheduled for Tuesday, May 31st at the same time and location.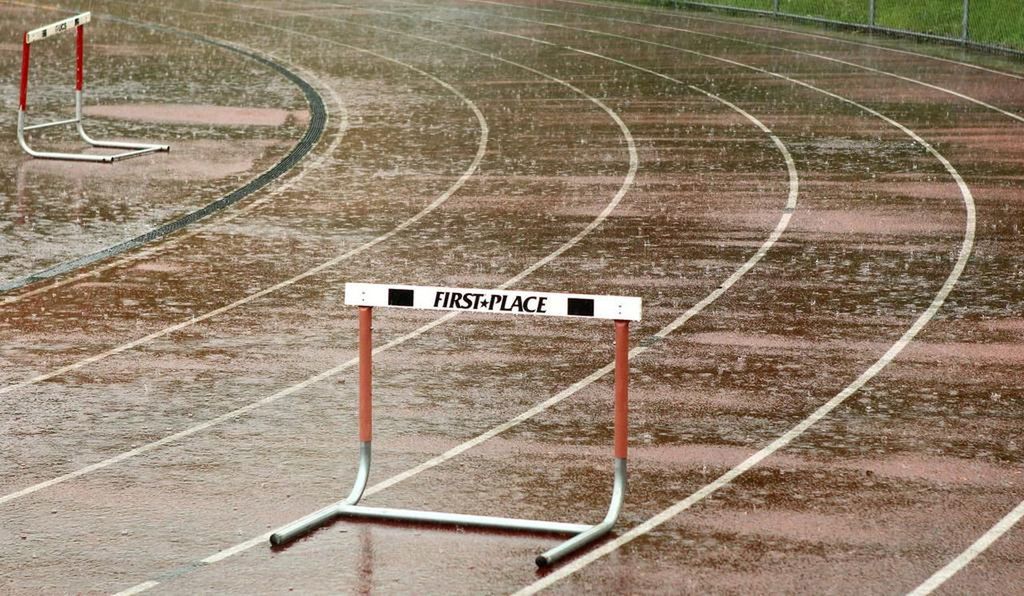 MUNISING MUSTANG ATHLETIC CANCELATIONS FOR TODAY, WEDNESDAY, MAY 25TH, 2022 Due to wind and rain, the HS GOLF meet at Marquette today (5/25) has been canceled as well as the BOYS' TENNIS match at Kingsford. The tennis team will be at Kingsford tomorrow (Thursday 5/26) for the GNC Boys' Tennis Tournament.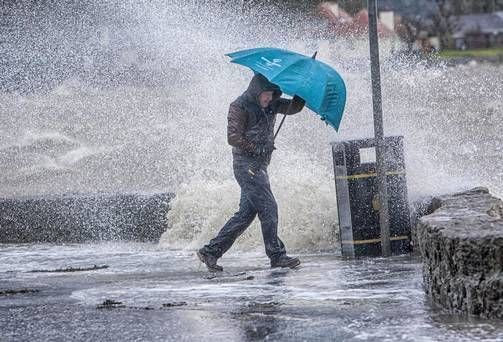 Bus runs will be combined on one additional day this week. On Wednesday, May 25, students who normally ride bus #2 will ride bus #10 home. Students may get home up to 45 minutes later than their usual time. We appreciate everyone's continued patience and understanding.

Bus runs will be combined in the morning and afternoon on multiple days this week. Some morning runs will be combined on Tuesday, May 24 and Friday, May 27. Pickup times may not be at their normal times. Afternoon runs will be combined on Monday, May 22, Tuesday, May 23, Thursday, May 26 and Friday, May 27. Students who normally ride bus #10 will ride bus #2 home. Also, on Tuesday, May 23, students who normally ride bus #6 will ride bus #3 home. Students may get home up to 45 minutes later than their usual time. We appreciate everyone's continued patience and understanding.

MUSTANGS SENIOR ALL NIGHT PARTY SATURDAY, MAY 28, 2022 - 10:00PM MUNISING HIGH SCHOOL GYMNASIUM SENIORS & APPROVED CHAPERONES ONLY THANK YOU TO COMMUNITY SPONSORS & D0NORS THANK YOU TO ORGANIZING COMMITTEE OF COURTNEY OAS, DENISE NEBEL, & MISSY NELSON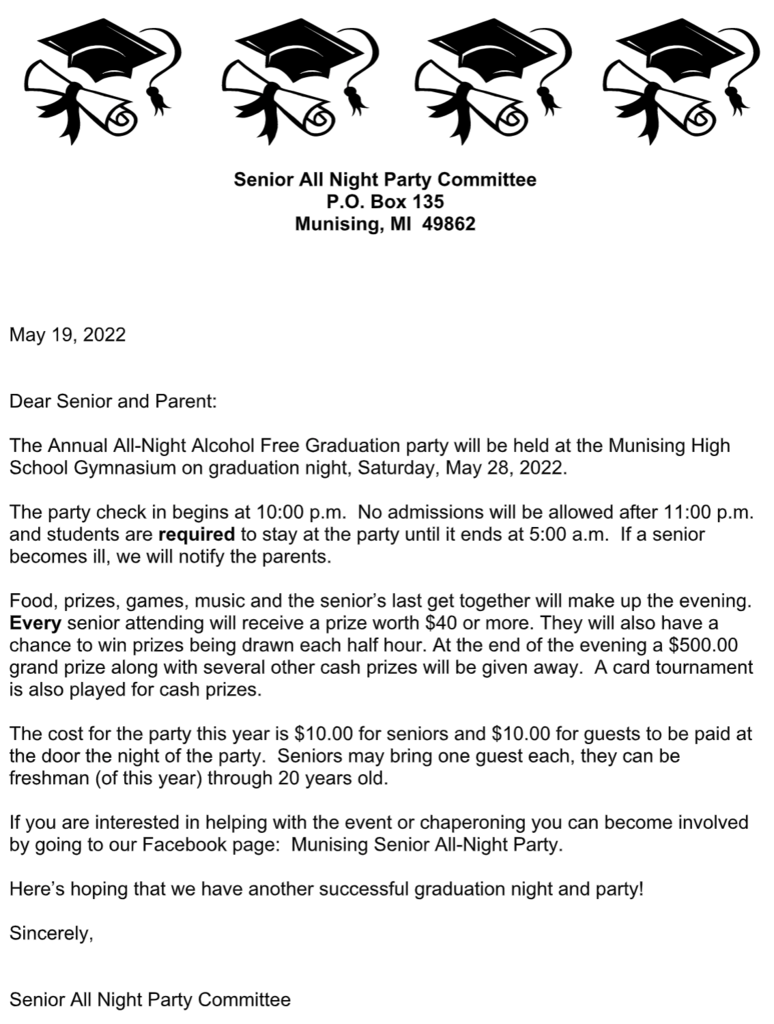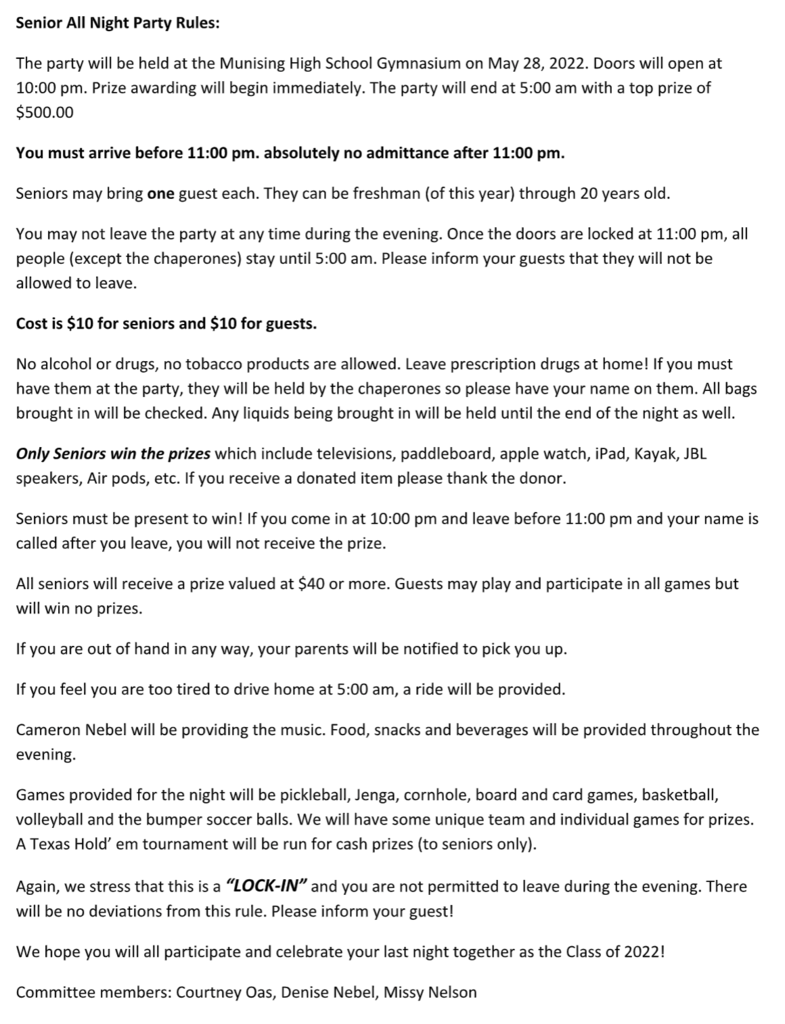 Bus runs will be combined today, Friday, May 20, 2022. Students who normally ride bus #10 will ride bus #2 home. Students may get home up to 45 minutes later than their usual time. We appreciate everyone's continued patience and understanding.

MUNISING MIDDLE SCHOOL TRACK & FIELD INVITATIONAL WEDNESDAY, MAY 18, 2022 @ MUSTANG STADIUM, 3:45PM